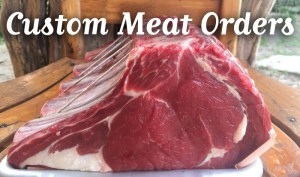 November Bulk Beef, CSA Shares and Individual orders are ready to be picked up! We will begin packing those boxes and have them available for pick-up/delivery by tomorrow afternoon.
Follow us here on FaceBook and Twitter to see the pick-up/packing/delivery process.  We thank all of our customers for supporting our farm and our dream.  Its a privilege to serve you all, we take great pride in our farm and the beef we market.
We do have monthly delivery CSA shares available, if you are not familiar with a CSA please reach out to us its a great option to enjoy beef year round, requires limited freezer space and allows you the economic benefit near to buying in bulk, those that join now delivery will begin December 15th.
We will have a limited amount of individual retail cuts available for sale, our sampler boxes will be available and on sale through the Holidays and make great Christmas gifts. (Price is $50 includes  6 pounds total of All Natural Grass Fed Beef a typical mix includes 2lbs of lean ground beef, 2 lbs roast, 2 steaks, and a misc item)
If you are interested in a bulk beef purchase we are accepting deposits now for a tentative January delivery.  Those slots are limited so please contact us to reserve yours as soon as possible.
Most of all we wish each of you a very Happy Thanksgiving and we are extra Thankful for the opportunity to serve each of you.